OUR SERVICE AND PRODUCT OFFERINGS ARE FOCUSSED ON GUIDING AND SUPPORTING YOU, AS A SMALL BUSINESS OWNER OR MANAGER, TO MANAGE THE "PEOPLE STUFF" IN YOUR BUSINESS AND:
Optimise team and business

performance

Ensure your business is

sustainable

(whatever that might look like for your business: growth, stability, transition to exit etc…)

Maximise

engagement

(staff engagement and YOUR engagement as an owner/manager), and

Develop and maintain an effective workplace culture

that drives results.
The centrepiece of our work is the exclusive Success through People Model©, pictured below. The model presents the key elements that the most successful small businesses have in place when it comes to people management: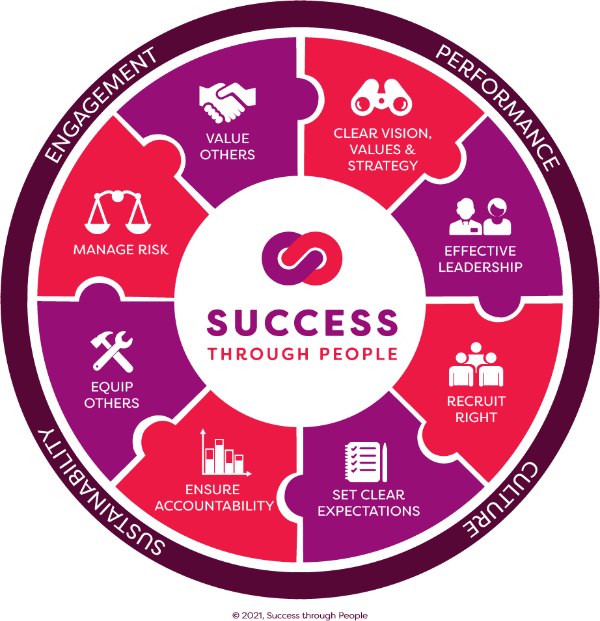 A selection of our product and service offerings are highlighted below. If you like what you see and you're ready to take your business to the next level, schedule a complimentary Discovery Call now. We'd love to hear from you!
SUCCESS THROUGH PEOPLE SCORECARD
If you're a small business owner or manager, this is a great place to start your Success through People journey. Complete the online diagnostic and instantly receive a customised report which identifies the strengths and improvement opportunities in your business, in line with the Success through People Model©.
We've been using this tool with our clients for close to 10 years and found it a great way of making the "people stuff" in the business more tangible, thereby allowing you to take real action to improve your business.
It takes about 15 minutes and it's completely free and without obligation. Click HERE to access now.
SUCCESS THROUGH PEOPLE TEAM SURVEY
Once you've received your Success through People Scorecard, it's a great idea to also gather additional insights from your team as to how your business is presently positioned in terms of the Success through People Model©.
Use the resulting reports to work with your team to create and begin to implement your Success through People Action Plan. Resources are available to help you do it yourself or tap into our coaching or consultancy support to help you along the way.
SUCCESS THROUGH PEOPLE COACHING AND CONSULTING SUPPORT
Interested in the Success through People Model©, but don't have the time or internal resources to do it all yourself? Our coaching and consulting solutions could be the answer.
Book your complimentary Discovery Call now and let's begin to explore about how we can partner with you to help you implement the Success through People Model into your business/organisation and achieve the success you deserve.
CULTURE, TEAMWORK AND LEADERSHIP SUPPORT
While our Success through People surveys, consultancy/coaching support and associated information and tools are the complete solution for assessing and helping you sort out the "people stuff" in your small business, our clients sometimes need a more specific solution focused on workplace culture, leadership or teamwork.
We have considerable experience with a range of proven tools and methodologies to deliver just the right solution based on the needs of your business. Those that we most frequently use include:
Human Synergistics: Organisation Culture Inventory (OCI), Organisation Effectiveness Inventory (OEI), Leadership Impact (L/I), Management Impact (M/I), Group Styles Inventory (GSI), Life Styles Inventories 1 and 2 (LSI1 and LSI2) and simulation activities.
Everything DiSC®: AgileEQ, 363 for Leaders, Management Profile, Workplace Profile, Work of Leaders, Sales Profile, Productive Conflict, Culture on Catalyst online platform.
5 Behaviors of a Cohesive TeamTM: Based on Patrick Lencioni's bestselling book "The 5 Dysfunctions of a Team".
Interested? Give us a call or schedule a Discovery Call now to explore our consulting and/or 1:1 and group coaching/training services and programs.
COMING SOON: We're working on a range of products and tools based on the Success through People Model© (including online courses and a card deck), to support small businesses looking to use the model to identify gaps and opportunities to improve their people-management practices as and build an even better business.
Be sure to signup to our email list and/or follow us on Facebook or LinkedIn to be among the first to be advised of new products and services (who knows, signing up might also score you a launch discount on our new goodies!).
Having worked extensively with small to medium-sized businesses over the years, we know first-hand that employers understand the benefits of continuing to develop their employees.
We also know however that providing quality development opportunities presents challenges for smaller businesses: it can be expensive, it can be too generic and not quite meet the needs of smaller businesses, it's time-consuming and takes your team members off the "front line" of your business, and so it goes on.
That's where Short N Sharp Training comes into play. As the name suggests, Short N Sharp Training is:
Short: Most Short N Sharp training sessions are 2 hours in duration: long enough for you or your team to gain the knowledge and skills they need, but not too long for them to be away from the front line of your business.
Sharp: All sessions provide essential information and skills in a specific subject area. Participants get just what they need, without the waffle and without the fluff!
Short N Sharp training can be delivered online or in-person, and our programs focus on the following key areas:
Leading Others
(eg. Small Business Leadership; Managing Performance)
Working with Others
(eg. DiSCovery – understanding different work styles; Navigating Difficult Conversations)
Developing Core Skills
(eg. Time Management; Customer Service)
Interested? Check out www.shortnsharptraining.com.au
HR AND RECRUITMENT SUPPORT
If you're interested in our "hands on" HR and recruitment support offerings, specifically designed with small to medium-sized businesses in mind, you might like to also check out www.hrsuccess.com.au