Over recent months we've been taking a closer look at each of the elements of our exclusive Success Through People© Model . This month's focus is on Ensuring Accountability.

"Accountability breeds response-ability" – Stephen Covey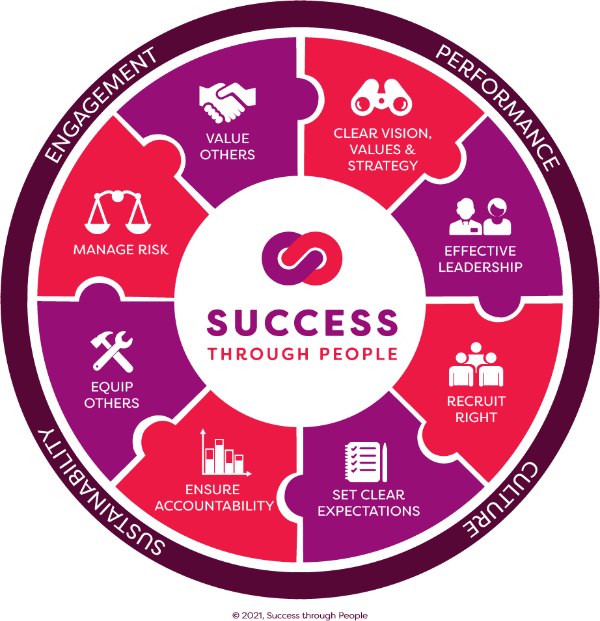 So What's it all About?

In addition to setting clear expectations, the best businesses foster a culture of accountability. For example, they often:

set and review progress toward key performance indicators (KPIs) at individual, team and business levels
benchmark against previous performance and the performance of similar businesses
undertake regular customer and staff surveys
have and consistently apply an effective performance planning and review process.

While some businesses do a great job in terms of setting expectations, it means little if there is no follow-through on those occasions that expectations are not met, hence the need for Being Accountable.

And while the benefits to the business of holding people accountable are readily-apparent, it's important to note that research by Gallup (reported in BRW, 11/2014), reveals that employees prefer to be held accountable: indeed, the research revealed that employees are 7 times more likely to be engaged when their managers are aware of their current work and holding them accountable.

Tips:

So if you think improving the level of accountability in your business could be an improvement opportunity, here are a few tips to get you started:
Review your business strategies and goals to ensure they are S.M.A.R.T (Specific, Measurable, Agreed, Realistic, Timebound). You and your team need to know precisely what you are aiming for and the means by which performance will be measured.
Regularly measure progress towards your business goals and, as appropriate, communicate results to your team.
Ensure that each business goal translates into plans and KPIs for each area of the business and, wherever possible, each individual within the business.
Develop, review and implement a performance management process as the primary means by which individual goals are established and reinforced, progress is reviewed and any development needs are identified and addressed.
Be prompt, consistent and effective in addressing performance that does not meet expectations.
Keen to see how your business/organisation is doing in terms of the Success Through People(c) Model? Take our free STP Scorecard and receive a comprehensive, personalised report with tips and tools to help you and your business achieve Success Through People.​